Monday, May 11th, 2009
Latest News:
Greetings! I know we haven't sent out a newsletter in a while but, as you know we've made some design and content changes. We've been working behind the scenes getting some activities scheduled for the first part of 2009.
We had a small showing of photographs at Brikolodge, the co-working space in Miami Mid-Town; had an Art Talk with Annie Wharton at FAU; presented a Photoshop workshop; scheduled a couple speakers, and are now working toward assisting a local charity.
We are working with our membership group, South Florida Artist Entrepreneurs, to find an appropriate charity to work with. Membership is open. Our deadline for identifying a charitable organization is 31 May, 2006.
Miami Art Live!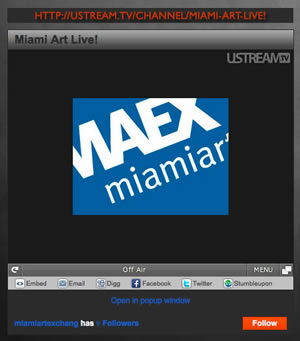 Our Art Talk with Annie Wharton at FAU was presented LIVE on our video channel, Miami Art Live!. We have a few videocasts archived with more scheduled throughout the remainder of 2009. Do you want to participate? Submit your idea here.
We will be presenting other events and activities during the remainder of the year.
Live broadcasting brings you right up close to the artists and activities you're so interested in.
If you have someone you'd like us to interview please, contact us with the information. This includes collectors, curators and, the average Joe and Jane art lover. The latter definitely make up part of our community and without them, we'd certainly be less of a community.
José Parlá: Reading through Seeing, New Works
Ooi Botos Gallery is pleased to announce Reading through Seeing, an exhibition by contemporary artist Jose Parla, on view 14 May through 11 July 2009. This will be the artist's first solo exhibition in Hong Kong and will showcase new paintings, works on paper, photographs and ceramic works. The exhibition will take place during Art HK 09 and will be accompanied by a fully illustrated catalogue with essays by scholars Alexandra Chang of New York University — Asia Pacific Center and critical theorist and art historian Michael Betancourt.
An artist talk by Jose Parla will be co-hosted by The Pawn on the 16th of May 2009. In conjunction with ART HK 09, The Pawn is hosting a series of art related VIP events from the 15 of May through the 17 of May 2009.

Jose Parla's new works are inspired by his recent travels in France, Japan and the United Kingdom. Parla's unique and playful inscriptions and diary-like gestures with his trademark hand–writing recall his personal observations of how the idiosyncratic behavior of anonymous individuals on those distant streets distinctly impact each geographical environment.

The complexity of Jose Parla's mixed media paintings is based on the layering of images and paraphernalia collected from his daily encounters at home and his adventures abroad, interpreted through his dynamic gestural process. Interleaved through each work is Parla's calligraphic script, which infuses each piece with vibrancy, energy and meaning.

Memories, thoughts, ideas, quotes, phrases, conversations and observations scrawled in Parla's instantly recognizable, flowing script reflect his characteristic fusion of writing and painting, word and image. His brushwork depicts walls in the city, or in rural areas outside of urban centers, while his mélange of imagery and words hint at stories within stories, an evocation of the places that have deeply affected him.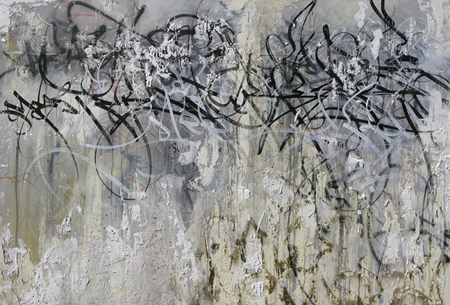 Westchester Plaza, 4 x 7ft. Mixed media, oil, acrylic and plaster on canvas. Jose Parla © 2009 PARLA STUDIOS, LLC. All Rights Reserved - Member of the Artists Rights Society New York.
About Jose Parla

Jose Parla is a New-York based artist whose paintings reflect the way in which cities function as palimpsests. Born in Miami, Parla traveled in the Caribbean, South America, Asia and Europe in the 1990s before settling permanently in New York. His work has been collected and exhibited by Agnes B. Galerie Du Jour in Paris and Takashi Murakami's Kai Kai Ki Ki gallery in Tokyo. Major recent exhibitions include, The New Grand Tour showing in Hong Kong and Beijing (2007-08), Adaptation / Translation at Elms Lesters Painting Rooms in London (2008), and Layered Days with Cristina Grajales' Soho gallery in New York City (2008).

About Ooi Botos Gallery

Ooi Botos is Hong Kong's leading avant-garde gallery specializing in photography, digital media, video and installation. In fact, the Jose Parla exhibition marks a departure from Ooi Botos' customary program, with Parla being the only painter represented by the gallery. Ooi Botos is dedicated to exposing the public to art forms rarely seen in Hong Kong to raise the level of discourse about art in Asia.
Ooi Botos is located at 5 Gresson Street, Wanchai, Hong Kong.
Gallery Hours: Tuesday to Friday 11.30 A.M. – 3 P.M.
and 6 P.M. – 8 P.M., Saturday 11 A.M. – 6 P.M.
For further information regarding this exhibition, visual elements and press inquiries, please contact: Lisa Botos at Tel. +852 2527 9733, lisa@ooibotos.com

www.joseparla.com - www.ooibotos.com
Send to a friend
Send this email to someone you think may be interested. They'll thank you for it!
Support Our Sponsors