February, 2010
Miami Art Exchange Latest News:
ARTISTS FOR HAITI
ART AUCTION FOR HAITIAN EARTHQUAKE RELIEF
Sunday 21 Feb., 2010 -- 10 am to 6 pm
(Preview Saturday, 20 Feb., 2 pm to 5pm)
Where: Artlab33 | Art Space (Miami Art Exchange)
2051 NW 2nd Av
Miami, Florida 33127
Miami Art Exchange at Artlab33 Art Space will be collecting the works at their location at 2051 NW 2nd Ave. Miami, FL. Tue-Sat 11-5pm.
http://artlab33.com/
http://miamiartexchange.com/

Proceeds will go to Food for the Poor (501c3 non-profit) http://www.foodforthepoor.org
Mission:
To bring artists together in an effort to provide funding for aid to the victims of the earthquake in Haiti. All monies will be donated to the to Food for the Poor (501c3 non-profit) for helping in this catastrophic event.
Art for Auction:
Original art works, giclee prints, fine art photography, sculptures and everything that can be auctioned in the name of art to help save lives and feed the needy in Haiti. All art not auctioned will be returned to the artists with Monday off and Tues., 22 Feb. being the first day for pickup returns. Regular business hours apply to pickups.
"Proof: South Florida Printmakers"
29 Jan., thru 27 Feb., 2010
Come meet the artists: Diane Arrieta, Andrew Binder, John Cutrone, Kathleen Hudspeth,
Brian Reedy, Kari Snyder, Jonathan Thomas, Seth Thompson, and Tom Virgin.
Open Second Saturday (until 10:00 pm) - Wynwood Art Walk
Miami Art Exchange Exhibitions Changes Name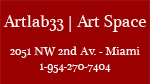 Miami Art Exchange changes its exhibition gallery to Artlab33 | Art Space.
Miamiartexchange.com has been online so many years it seemed there was not enough room to add another concept so, we've decided to bring our brand, Artlab33, to bear the banner of our exhibition space.
This gives us full opportunity to expand as we see the need without impinging on our established site and flagship identity. However, Artlab33.com has been around and functioning for easily eight years, so it's not really new. In the past it served as our events calendar and as our "studio visits" concept. Now, it stands as our exhibition venue and will remain our curatorial project site, and bring affordable prints & multiples to our audience.
Our sign out front still says Miami Art Exchange until our new sign is manufactured, so watch for us as we grow.
Miami Art Exchange - March 2010
We have news every month to share, but March 2010 will be special. Director and artist, Onajide Shabaka, will be on a conference panel for the upcoming, Locating Caribbean Art in the Diaspora, at the University of Miami, Coral Gables.
March 4th, 2010 - 5:30 PM – 6:15 PM Holiday Inn, Alhambra Ballroom

Locating Caribbean Art in the Diaspora: Critical Discourses on Visual Culture

Moderator: Rosie Gordon-Wallace, Director, Diaspora Vibe Art Gallery, Miami

Onajide Shabaka, Founder, Miami Art Exchange - Visual Arts, formerly of Florida Atlantic University

Selina Romain, Diaspora Vibe Cultural Arts Incubator, Miami (Photographer)

Alix Pierre, [University] The Maroon Aesthetic in Francophone Caribbean Visual Arts
If you have any questions that we can answer, please contact us.
Send to a friend
Send this email to someone you think may be interested. They'll thank you for it!
Please Visit Our Supporters