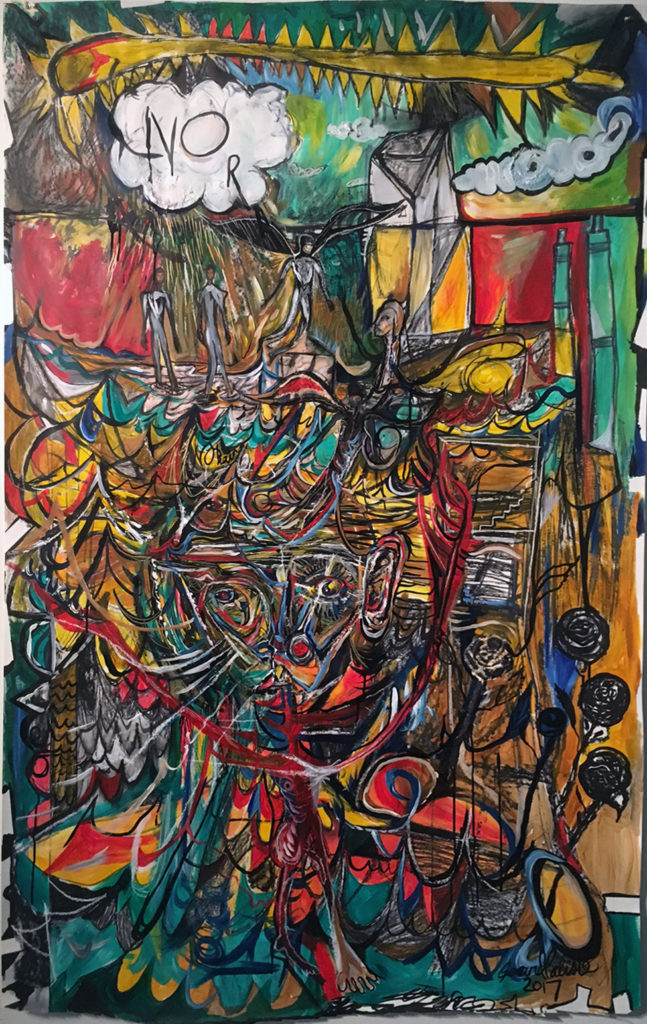 "Untitled," mixed media on paper, 60 x 42 in., © 2017
Currently artist-in-residence, Gerard Caliste, was born in New Orleans Louisiana and currently lives and works in Houston, TX. Gerard's paintings and works on paper are most often narrative thematic pieces that has its subject matter in the urban setting.
"Diaspora Vibe Cultural Arts Incubator (DVCAI) commitment to artists of Caribbean and diverse cultures ensures they receive validation, visibility and professional opportunities."
His residency is the kind of professional opportunity that DVACI provides its artists as it is deeply embedded in the South Florida community.
Caliste is primarily working on paper during his residency. He's primarily a painter but as with most artists, crosses the media boundaries whenever he feels it best to do so. Working on paper allows Gerard to work on a lightweight material but still gives some freedom to build paint textures, and scale the pieces to a comfortable size, including the use of charcoal and conté. The process starts off with gesso then gets layered with other materials through drawing with charcoal directly into wet paint. His works are a melding of figuration and expressionism.
His current series, "NO RAIN," focuses on water and the figurative. A futuristic world without water but the emaciated figure, lacking vegetation are aspects more abstract and than literal. There are daily reports about planets in our solar system, such as Mars and Jupiter, that provide enough reality to fuel a visual representation of an unknown future no matter how abstract.
So, is Miami influencing the work in any way? Yes, in terms of adding the overall graphic qualities. But in this series, in a far away future, there is still a water starved environment which provides a fascinating contrast to the verdant summers we swelter in. That part of the watery world of south Florida has had a limited influence on the work produced so far but the work will grow beyond the limited timeframe of the residency.
After returning home to Houston no shows anticipated… or currently scheduled, but as we all know, Gerard Caliste's time in Miami will yield a body of work well on its way to completion with his expressive ideas.
Gerard Caliste is presented in partnership with DVCAI, Fountainhead Residency, ArtCenter/South Florida, and Warehouse4726.