For most of us, taking a 3-7 day cruise would be desirable on so many fronts. However, Monday before Art Basel Miami Beach we were feted aboard the cruise ship Celebrity Reflection for a boat launch and art tour. We normally would not think of experiencing an art tour on a cruise ship, but the Celebrity Reflection houses enough art that it would take more than one day to see it all.
The Celebrity art collections were first assembled in the mid-1990s under the auspices of Christina Chandris, wife of John Chandris, the company's owner at the time. "From the beginning,the initiative was highly personalized, a labor of love more than a mechanism for investment. Even so, thanks to Mrs. Chandris, the earlier ships in the fleet Celebrity Constellation, Celebrity Summit. Celebrity Millennium and Celebrity Century have been decommissioned and reassembled on the Reflection," notes Rene Morales of the Perez Art Museum Miami.
Rene Morales continues in the Celebrity Collection catalogue:
"In a good poem, meaning is to be found as much in the words" themselves as in the conceptual gaps between them. So it is with a good art collection. When a sufficient number of strong-enough artworks are brought together, something interesting tends to happen They start to speak to each other, drawing out and amplifying the potential meanings that linger in the spaces between themselves and their neighbors. Insights that may have remained obscure in isolation gradually emerge. After nearly 20 years of acquisitions, the Celebrity Art Collection has reached this point, perhaps several times over."

"Within the white box of contemporary art. the object becomes the sole focus; everything else is supposed to fade away. At the same time. as artists themselves have constantly reminded us since the middle of the last century, the antiseptically pristine gallery type that we have become so accustomed to -whether we walk into a venue for contemporary art in New York,Tokyo, Zurich, or Sao Paulo – can cause an artwork to suffer from a lack of nourishment, the way an organism can suffer when displaced from its natural habitat. It is all too easy for art to become encased inside its own bubble. detached from the real, material conditions from which it arose. held at a remove from the very world it seeks to understand and have an effect upon."

"It is in this sense that the Celebrity Art Collection stakes its boldest claim. The whole endeavor functions. at its core. as a vigorous attempt to question the necessity of the detachment of art from real life. It levels an implicit challenge to the assumption that viewers cannot be moved by art outside of conventional institutional environments. In the process, it envisions a new and utterly unique space of experience."
For the unsuspecting cruise ship passenger, they would never envision so much art without having to go look for it. It is sited everywhere, inside and outside. Bert Rodriguez even had a large scale sculpture suspended between the two sets of elevators covering 15 interior decks. Of course, the sculpture was not the total height, but with a live tree, it was probably close to three decks tall.
In addition to Bert Rodriguez, and his double, several other artists with recent commissions were in attendance: Michelle Weinberg, Carlos Betancourt and collaborator, Alberto Latorre, Cristina Lei Rodriguez, and Nina Surel. We, as guests, had to opportunity to meet and greet the artists and take in the overwhelming and luxurious spaces on every deck, in the stairwells, and at each set of elevators.
Maybe now, taking a cruise will be more a realistic possibility since we had been aboard and experienced the utmost in hospitality. Cruise ship staff were constantly greeting us and offering assistance. Not having had a vacation in four years, I'm ready for something like this.
"Celebrity Cruises' commitment to fine art is unparalleled in the maritime industry," said Mariangela Capuzzo, ICArt Creative Director and Lead Curator. "Their ships have become a platform for a stellar art collection with work by important established, mid-career and emerging artists. ICArt's relationship with Celebrity has been one of mutual appreciation and positive evolution culminating with Celebrity Reflection, the fifth in Celebrity's stunning, five-ship Solstice Class series."

"The Celebrity Reflection Art Collection is comprised of approximately 136 new acquisitions, including original paintings, sculptures, photography, video, drawings, prints and site-specific, architecturally-integrated installations."

"To mark the launch of Celebrity Reflection and its innovative art collection, ICArt and Celebrity Cruises hosted a VIP event onboard the ship December 3, coinciding with the start of Art Basel Miami Beach week. At the event on Celebrity Reflection, invited guests viewed the unique collection, meet and mingle with contributing artists, and witnessed 2008 Whitney Biennale participant and conceptual artist Bert Rodriguez's performance, 'Everywhere I Look, I Only See Myself.'"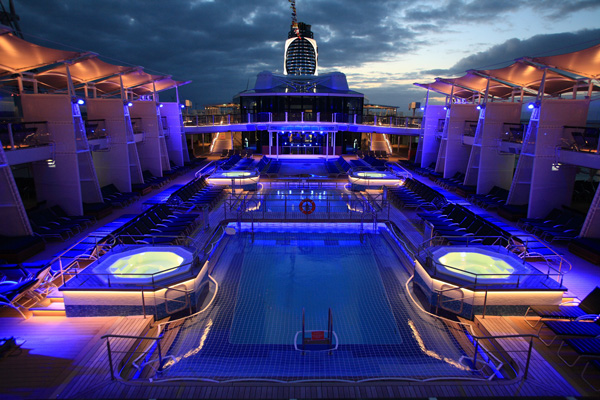 Credit:Simon Brooke-Webb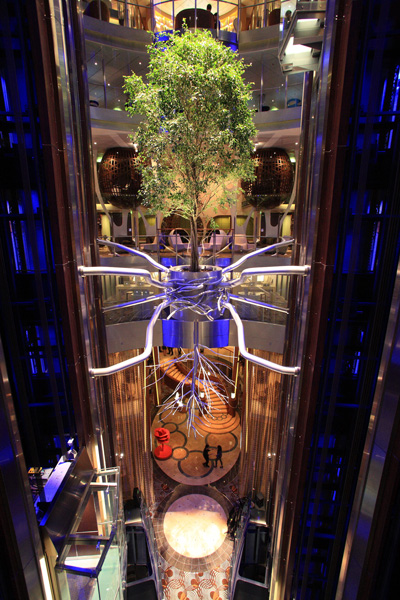 Bert Rodriguez
Reflection, 2012
Steel, fiberglass and paint with LED lights
Credit: Simon Brooke-Webb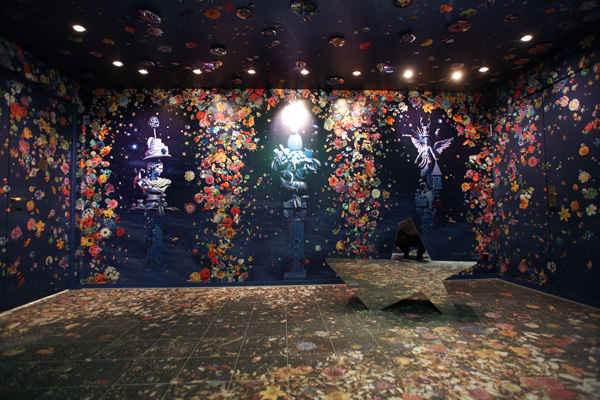 Carlos Betancourt and collaborator, Alberto Latorre
Credit: Simon Brooke-Webb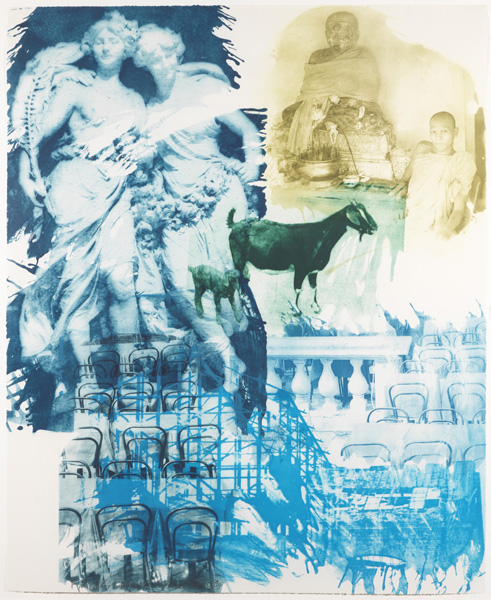 Robert Rauschenberg
Intermission (Ground Rules), 1996
Intaglio
Credit: Fin Serck-Hanssen
left to right: Michelle Weinberg, Nina Surel, Carlos Betancourt, Cristina Lei Rodriguez