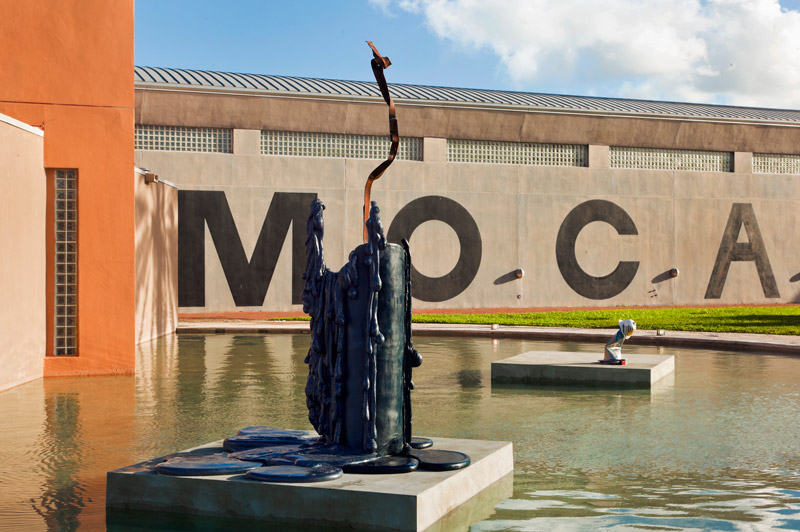 I first met Mark Handforth at the Rubell Gallery on Lincoln Road. Some visitor had playfully, or acting as a prankster, kicked his sculpture that was on the floor. Though the commotion annoying, Mark graciously explained to a few listeners what his art was about. Years later he rented a warehouse space on the corner from mine, which allowed us to reconnect.
Inspired by everyday urban existence, Mark Handforth's sculptures are poetic, lyrical, and wryly comical objects that comment on daily life and human interaction. Through a corporeal engagement with scale and distortion of form, Handforth imbues works such as an illuminated street lamp resting on the ground, a weeping neon moon, and a monumental coat hanger with distinctive personalities.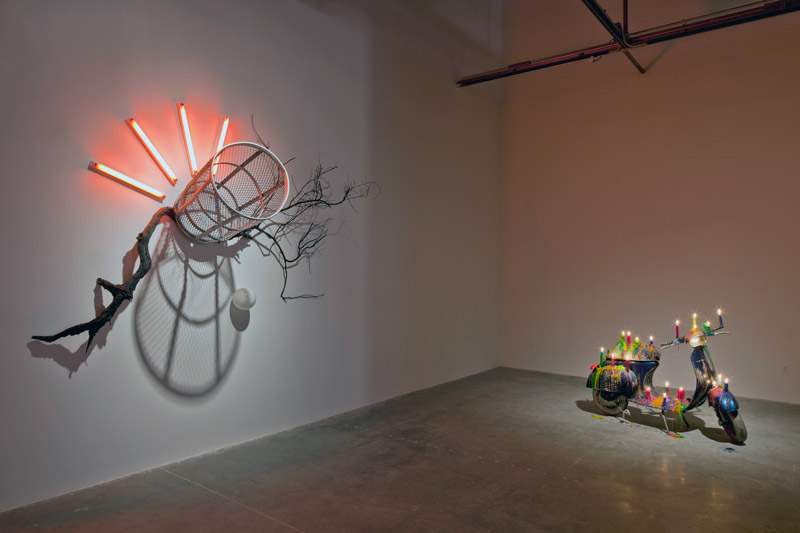 During thie 2011 Art Basel Miami Beach events, this exhibition was one of three solo museum exhibitions going on at local museums. This exhibition, seemingly few works in a large exhibition, has not been easy to write about, although the visual afterburn of the sculptures have remained in my head for a week now. His work derives from a source personal in ways that we do not immediately know, but we have familiarity with.
Handforth's works exploit the monumental quality of MoCA itself, unlike many of the exhibitions that do not fully take advantage of the ceiling height. In this case a coat hanger is perched over the suspended lighting ans support system that sits at about 15ft / 4.5 m. There was also a lightness, and playfulness to the exhibition, allowing us to think of being in a huge play yard. A play yard, yes, but one of potentially dangerous objects when we realize we have become miniatures in this Handforth landscape.
I have to admit personal bias to Handforth's work. Admittedly, it is more to my own inclinations as an artist, however, if we cannot point to works that move us viscerally then we are wasting our time hunting for other candidates.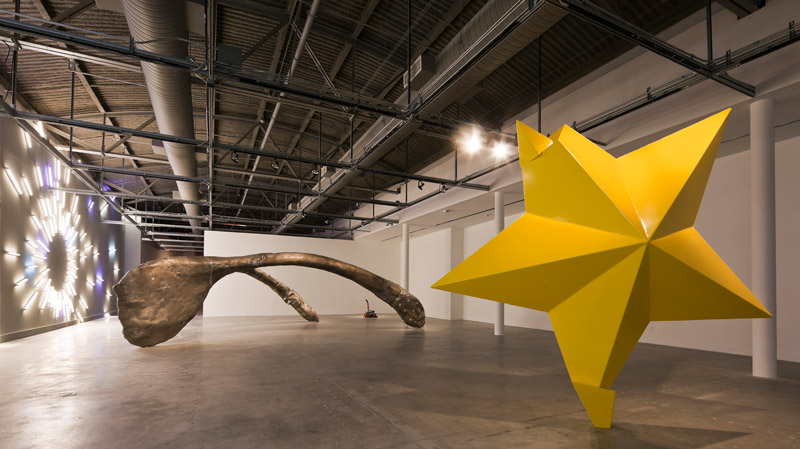 Photo credit: Steven Brooke
The exhibition brings together 25 works as well as models, including a major new light installation of a solar eclipse, which draws as much from the early 19th-century English Romantic artist William Blake as it does from Miami's ubiquitous neon signage. Occupying 100 feet of the museum's walls with rays of fluorescent fixtures, this installation will highlight the unique space of MOCA's current galleries and will herald the groundbreaking for its new expansion in 2012. The exhibition extends beyond the museum's galleries with works installed on the MOCA Plaza and in the museum's courtyard where Herbal Hill, a sculpture Handforth created for a group show at MOCA in 1998 will be reinstalled.  Other locations offsite include the installation of Electric Tree, a giant banyan tree delineated, illuminated and honored with lines of light tracing its limbs in the City of North Miami's Griffing Park, and the pink neon Weeping Moon, 2010  that will glow and weep on a billboard in the Wynwood Arts District of Miami.

Mark Handforth was the first Miami artist to receive a solo show at the Joan Lehman Building of MOCA, North Miami in March 1996.  Mark Handforth: Rolling Stop coincides with the museum's celebration of its 15th anniversary in its current Joan Lehman Building.   Since 1996, Handforth has received major international recognition and has emerged as an important role model for Miami artists.  The exhibition Mark Handforth: Rolling Stop makes a strong statement about MOCA's pivotal role in shaping Miami as an international center for contemporary art.
MARK HANDFORTH
Rolling Stop
Knight Exhibition Series
30 November – 19 February, 2012
Museum of Contermporary Art
770 NE 125th Street
North Miami, Florida